Highclere Castle Vintage Garden Party
Saturday, September 10, 2016
Highclere Castle is going back in time to welcome guests for Tours of the Castle, the Egyptian Exhibition, a Traditional Fete, Vintage Cars and Marquees on the Lawns.
THIS IS A LEGACY ARTICLE, PLEASE CLICK HERE TO BUY TICKETS AND SEE DETAILS FOR THE 2017 EVENT
---
Please do come dressed in period or vintage clothing from Edwardian times, the era for the first series of "Downton Abbey". Choose from "upstairs" or "downstairs" and we can provide details of costume hire companies, so that if you don't have a  costume at the back of your wardrobe this may be a good option for you!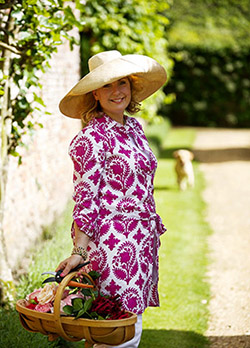 Lady Carnarvon will be giving prizes to the best 'upstairs' or  'downstairs' costumes. Who will be the best "Carson"? Who will have the best hat? 
Highclere has held traditional fetes here over many years. Test your strength, play hoopla, watch some jugglers, ride the carousel. Admire the vintage cars parked outside the Castle, listen to music from the brass band by the marquee, try some cocktails, enjoy the pianist in the famous Green Drawing Room. As the date draws nearer we will let you know more details and amusements.
---
Each day will follow the same format. Admission tickets are for 10am and 11.30am with corresponding suggested departures of 5pm, and 6pm when the gates and ground will close.
---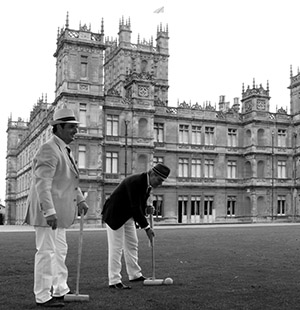 Included in the ticket price is a picnic box and a glass of Pimms for you to enjoy in the marquees or around the grounds and our tea rooms will also be open throughout the day if you would like to purchase further refreshments.
Please be advised, we are not able to cater for all dietary requirements within the picnic boxes which are prepared in our Castle kitchens. The picnic boxes will contain a Highclere sandwich, a traditional pork pie, home-made cupcake and a bottle of water. If you require vegetarian or gluten-free meals please select options accordingly so we can organise these alternatives for you.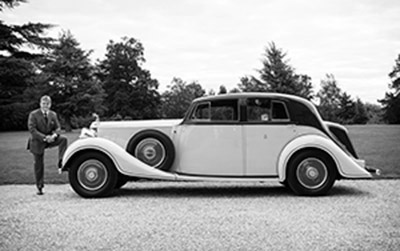 As on our other tour days, we are not able to welcome dogs and refer you to our usual planning guidelines concerning mobility scooters: They are not permitted inside the Castle, although wheelchair access is available to the ground floor and the Egyptian Exhibition.
Photography is not permitted inside the Castle although we will have various photographic opportunities for guests throughout the day. Drones are not permitted on the Highclere Estate at any time.
---
We are very much looking forward to welcoming you to a magical Highclere weekend!
---
Tickets are priced at £120 per person. To purchase tickets for this very Special Event, please click here.
If you have any questions please contact Alex Popplewell or Michelle Rees-Jones